The next meeting of the McGurk's Bar commemoration committee will be held on Saturday 26th January at 1pm in North Belfast.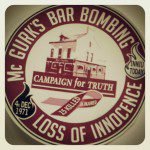 The committee will be discussing plans for the campaign in 2013, including the exciting release of a docu-film which we have been working on over the past year.
The film, Loss of Innocence, is made by Northern Visions with the Community Relations Council to coincide with the release of our book, The McGurk's Bar Bombing: Collusion, Cover-Up and a Campaign for Truth.
The committee are particularly keen to encourage other family members to attend including younger members who may feel they have fresh campaign ideas to bring to the table.
If you would like your voice to be heard, email us info@themcgurksbarmassacre.com for details and we will see you then.