To sin by silence, when we should protest,
Makes cowards out of men.
Protest, Ella Wheeler Wilcox
The McGurk's Bar campaign has lost one of its leading lights. Alex McLaughlin, son of Thomas, has died and we are poorer for it.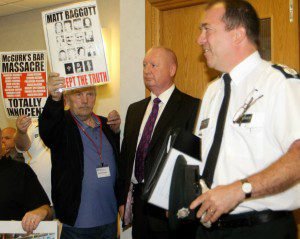 His loss is unfathomable for family members but may they take comfort that his many friends will shoulder it too.
We count ourselves among that number, and not unselfishly either, for as well as the man, we will miss his energy, his counsel and his drive which have helped power the work we do.
Words and time were precious commodities to Alex and he wasted neither. You could be sure he would tell you what he thought and he would be quick about it too.
This was formidable to face for either friend or foe.
Nevertheless, he was always open to engagement – even with old enemies – as long as the words between them helped each other learn and advanced our campaign for truth. He was also generous with his time and his support for other campaigning families as their mission became his.
It was apt, then, that we were speaking at an event to commemorate the victims of the McGurk's Bar bombing in Scotland when we were told of his death. That hundreds had attended and we were sat beside a Teachta Dála and a Member of the European Parliament is testimony to the relationships he built personally. They too will shoulder the loss his family face now as they knew the man and that for which he fought.
In that he was unswerving.
Alex McLaughlin was a civil rights activist and life-long Republican who devoted all of his energies to bring a lying state to its knees. He fought cancer with the same fortitude – fist raised.
He never sinned by silence. He protested.
Alex McLaughlin died on Saturday 4th October 2014. His funeral will leave his home at 10A Rockmount St, Belfast, for 10 am mass in St Johns Chapel. Our thoughts are with the family.