Books
Below are books and publications by author, Ciarán MacAirt.
He is the grandson of two of the McGurk's Bar victims, John and Kathleen Irvine. Kathleen was one of the fifteen civilians murdered, and John badly injured. Ciarán is also founder and manager of the charity, Paper Trail, which supports victims and survivors of the conflict in Ireland and Britain. He acts too as spokesperson for the families of the Time for Truth Campaign which has mobilized thousands of victims and survivors to protect their rights. Read about his other books here.
Leave your name and email, and you can read all of our future work as soon as it is posted >>>
SIGN UP NOW FOR FREE 
Read our articles and new reports first.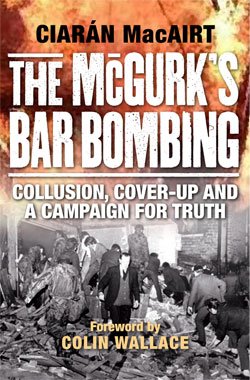 The McGurk's Bar Bombing
The critically acclaimed book by Ciarán MacAirt, grandson of John and Kathleen Irvine.
Trope: Essays and Articles
A personal journey from the killing fields of World War 1 to the back-streets of Belfast where death-squads roamed.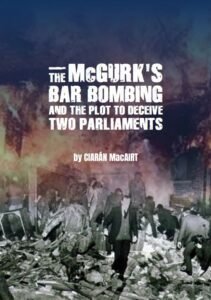 Plot to Deceive Two Parliaments
The high-level, coordinated and sustained plot to deceive Stormont and Westminster.
Paper-Trailers - Collected Essays
Featuring writing by Ciarán MacAirt and talented author Lyra McKee who was killed by extremists in 2019.
McGurk's Bar: Post-Script
New evidence discovered since the publication of the book, The McGurk's Bar Bombing.
Reviews
Author and screen-writer, Viv Young, writing for the New York Journal of Books:

"Greek dramatist Aeschylus claimed, 'In war, truth is the first casualty.' Yet thanks to determined writers like Mr. MacAirt the truths behind this particular tragedy have been resurrected."
Peadar Whelan writing for An Phoblacht:
"MacAirt... has lifted the lid on Britain's dirty war in Ireland. It is a book that must be read."
Author and academic, Dr. John Ó Néill writing on Slugger O' Toole:

"MacAirt applies a methodology that others would other might do well to study – roll your sleeves up, dig deep, dig smart and keep digging. As an addition to the literature it is essential reading for any serious student of the North's recent history."
Poet Brian Mario O' Clery writing on Political World:
"What stands out above all else in The McGurk's Bar Bombing is the sheer level of sourced research presented, backed up, and cross-referenced throughout, all in an articulate style which never strays into over-elaboration or confusion. This is not likely to be the only print of this enlightening book"
Veteran Republican, Gerry O' Hare writing for the Bobby Sands Trust:
"The families of the atrocity now have an excellent book written by the grandson of Kitty Irvine, who died in the attack… Ciaran's diligence and massive research is a credit to his determination to expose the lies and criminal actions of the RUC and British Army."
Kieran Hughes, North Belfast News:
"MacAirt's place at the heart of the campaign informs this excellent account of the McGurk's Bar atrocity."
Trade unionist and Director of the Association of Teachers and Lecturers, Mark Langhammer, writing in the Irish Political Review:

"The McGurk's Bar Bombing connects the re-foundation of the UVF in the 60s with the present in a way that enables us to see the use that the State has had for this group of partisans."