I imagined that there were more than a few raised eyebrows in the offices of the Historical Enquiries Team, the Police Ombudsman and Chief Constable when the Irish News headlined with news that Colin Wallace was not only a close contact of mine but also had written the foreword to my book.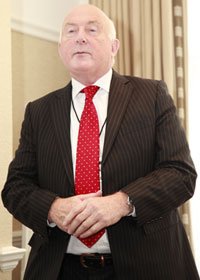 Colin Wallace (right) was a Senior Information Officer who worked at the heart of the British military's propaganda and psychological operations unit at Headquarters Northern Ireland in the early 1970s. Significantly for our study, he was on duty the night of the McGurk's Bar bombing when information of the atrocity was fed to Army HQ by British military personnel at the scene.
In my book I write how Colin's testimony has been crucial to our understanding of that night and has underpinned the importance of the hoard of secret documentation that I have found.
Indeed, even his foreword to The McGurk's Bar Bombing: Collusion, Cover-Up and a Campaign for Truth is essential reading to any student of our recent past and sets the tone for the rest of the book.
A mere snippet will give you a flavour of his former life and of what I go on to examine in detail:
"Aeschylus, the 5th century Greek dramatist, said: 'In war, truth is the first casualty.' Deception operations and psychological warfare activities have a legitimate role to play in any armed conflict, but those activities must be carefully managed otherwise they can become counter-productive."
The McGurk's Bar Bombing: Collusion, Cover-Up and a Campaign for Truth will be available as an e-book for the likes of Kindle very soon. See below for recent reviews…
Reviews
Author and screen-writer, Viv Young, writing for the New York Journal of Books
"Greek dramatist Aeschylus claimed, 'In war, truth is the first casualty.' Yet thanks to determined writers like Mr. MacAirt the truths behind this particular tragedy have been resurrected."
Peadar Whelan writing for An Phoblacht
"MacAirt, whose grandmother Kitty Irvine was one of those killed, by pulling together this information has lifted the lid on Britain's dirty war in Ireland. It is a book that must be read."
John Ó Néill writing on Slugger O' Toole
"MacAirt applies a methodology that others would other might do well to study – roll your sleeves up, dig deep, dig smart and keep digging. As an addition to the literature it is essential reading for any serious student of the North's recent history."
Brian Mario O' Clery writing on Political World
"What stands out above all else in The McGurk's Bar Bombing however, is the sheer level of sourced research presented, backed up and cross referenced throughout, all in an articulate style which never strays into over-elaboration or confusion. This is not likely to be the only print of this enlightening book"
Author, Phil Mac Giolla Bhain
"The book represents seven years of meticulous work. The case he presents in the book for collusion after the fact by the British Army is unanswerable… This book tells a greater truth about Britain's shameful role in Ireland"
Veteran Republican, Gerry O' Hare writing for the Bobby Sands Trust
"The families of the atrocity now have an excellent book written by the grandson of Kitty Irvine, who died in the attack… Ciaran's diligence and massive research is a credit to his determination to expose the lies and criminal actions of the RUC and British Army."