The team at Pádraig Ó Muirigh's Solicitor firm aren't content with fighting for justice. They also run for it as well.
The team are training hard in preparation for St Patrick's Day and the Spar Craic 10k run. The long haul starts at City Hall, linking west and east Belfast, while taking in the Cathedral Quarter and finishing on the Titanic Slipways.
Not content to run just for the fun of it though, the team are raising funds for local charities, community and campaign groups including our own.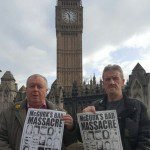 The lucky groups:
Our very own McGurk's Bar campaign
Community Restorative Justice Ireland
Clonard Boxing Club
McGurk's Bar campaigner Gerard Keenan (right), was a child when he lost both of his parents in the atrocity. He says:
This isn't only a wonderful gesture by Pádraig and the team but also very important for our campaign. Even a small amount of money can make a world of difference to the work we do. It could help us stage our exhibition and film for the public, or pay towards an important lobbying trip to meet with politicians and human rights groups in London or Dublin.
Ciarán MacAirt's grandmother was murdered in the McGurk's Bar Massacre. He also manages the charity Paper Trail which helps other families impacted by the conflict access information hidden in public records. He says:
The great fundraising effort is particularly important for us too as it will help fund a much-needed trip to archives in Britain where we have targeted information but have not been able to collect it due to lack of money. It is particularly apt too the team at Ó Muirigh Solicitors, including our own great friend, Niall Ó Murchú, will being running hundreds of miles as a team as they know as well as our families that the race for justice is not a sprint, but a marathon.
Every penny counts and you can help support the human rights team by Just Giving online.
[maxbutton id="1″]
Otherwise, contact Caitlín at Ó Muirigh Solicitors on 02890230222 if you would like to donate cash or a cheque (made payable to "Ó Muirigh Solicitors Ltd").
Very many thanks in advance to runners and donors!
Pádraig Ó Muirigh says:
At Ó Muirigh Solicitors we aim to contribute to the progressive development of the law and the promotion of equality and social justice outside the courts.

The 'Ó Muirigh Solicitors Social Justice Fund' is an initiative by our office to promote social justice in the community at grass root level. Funds donated by our firm, supported by donations and fundraising from our staff are regularly distributed to organisations or projects supporting social justice in the community or the promotion of human rights and civil liberties.