The Docs Ireland festival is hosting the international documentary, Game of Truth - Ar Lorg Na Fírinne.
Written and directed by acclaimed auteur, Fabienne Lips-Dumas, Game of Truth features families searching for truth (Ar Lorg Na Fírinne) about the death of their loved ones during the conflict in Ireland and Britain.
The story of the McGurk's Bar Massacre is one of five stories told by families from across the community.
The other stories include the Shankill Road Bombing, Stake Knife, the agent in the Irish Republican Army working for the British state, and the state-sanctioned murder of human rights lawyer, Pat Finucane.
Our good friend, Colin Wallace, also gave his time to help the production as it discusses state cover-up, collusion, disinformation, and the management of agents within Republican and Loyalist paramilitary groups.
Colin was working as an Information Adviser in Headquarters Northern Ireland when reports of the McGurk's Bar Massacre were recorded and buried. He also worked with the various information units such as the Information Policy Unit, British Army Public Relations, and the covert Information Research Department which led on the darker psychological operations (PSYOPS).
Docs Ireland Festival
Game of Truth was filmed (under strict regulation) during the global pandemic and it is only through the great effort of Fabienne, her production team, and funders that this important documentary was released. Fabienne has been working on it for many years before Covid-19 too.
Reviews from showings in mainland Europe are glowing so we are anticipating that the Docs Ireland audience will judge it similarly. I believe that this will be its first public showing in Ireland or Britain so it is apt that Belfast is hosting its homecoming.
Make sure you book early to avoid disappointment.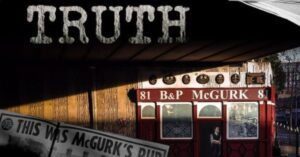 Documentary: Ar Lorg na Fírinne / Game of Truth
When: Wednesday 29th June 2022, 12 pm
Where: Ulster Museum, Stranmillis, Belfast
Leave your name and email and keep up-to-date with our Campaign for Truth. As soon as Ciarán MacAirt posts a blog article here, you will be emailed a direct link.
Be among the very first to read our news stories, new evidence, and publications. You can unsubscribe at any time.
Subscribe now for FREE 
Read our articles and new reports first.